JPEG Lossless Rotator
Free, simple software for rotating your photos into the correct orientation
When photos are taken, the camera may be held in different orientations, which means some photos need to be rotated to display correctly on the screen. For rotating photos, most image editors decode the JPEG photo, rotate the bitmap and then re-encode it back to JPEG. This process decreases the final image quality. Unlike those tools, JPEG Lossless Rotator does not recode the images and instead performs a special lossless block transformation, which helps to preserve the quality of the images. In addition, JPEG Lossless Rotator has a very simple multilingual interface and is very easy to use even for inexperienced computer users.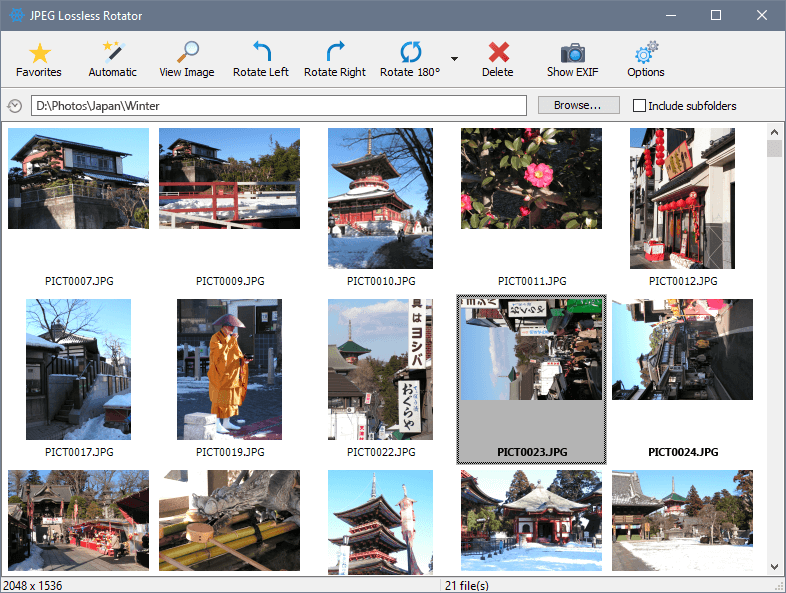 Features:
Automatic rotation.
Batch rotation.
EXIF-data display.
Flipping, renaming and deletion of files.
Shell integration — rotate your JPEG photos with a right-click on a file or folder!
Command line interface.
Multilingual interface: Asturian, Albanian, Basque, Brazilian Portuguese, Bulgarian, Catalan, Chinese (Simplified and Traditional), Croatian, Czech, Danish, Dutch, English, Finnish, French, Galician, German, Greek, Hungarian, Indonesian, Italian, Japanese, Korean, Polish, Portuguese, Romanian, Russian, Serbian (Cyrillic and Latin), Slovak, Spanish, Swedish, Thai, Turkish, Ukrainian, Valencian and Welsh.
According to iPhone users and the Apple Support Communities (discussions.apple.com), JPEG Lossless Rotator also fixes the problem of locked iPhone 4 and 4S photos. Photos taken in portrait mode with iPhone 4 and 4S do not auto-rotate when imported to Windows Seven, even if the user explicitly set the Windows import utility to auto-rotate them on import. Sometimes, the photos appear locked in the wrong orientation and cannot be subsequently rotated with the various Windows 7 built-in photo-editing tools. The problem results in error messages "Windows Photo Viewer can't save the changes to this picture because there's a problem with the picture's file properties", "This photo can't be saved because of a problem with the photo's file properties", or "You cannot rotate this image. The file might be in use or open in another program, or the file or folder might be read-only" in Windows 7 when the user tries to edit or rotate the photos taken with iPhone 4 or iPhone 4S and imported via USB to Windows 7 or synced via iCloud. If you are facing this problem, try JPEG Lossless Rotator.
Download
Supported platforms: Windows 2000, Windows XP, Windows Server 2003, Windows Vista, Windows Server 2008, Windows 7, Windows 8, Windows 10 — 32 and 64 bit. Installation package or portable application options. If you want to use shell integration, you need to download the installation package.
License: freeware (for private non-commercial or educational use).
Latest version: 9.2, released 22 December 2014.
What's new in version 9.2: improved portability — the program uses the jpegr.ini file with its settings whenever the file is present in the program's folder.
Minor updates for v9.2:
28 December 2014: Simplified Chinese interface updated.
10 March 2015: Croatian interface added.
20 September 2016: a tiny bugfix in saving timestamp.
29 March 2018: Ukrainian interface added.
14 June 2018: Cyrillic Serbian interface added.
7 March 2019: Japanese interface added.
Download free JPEG Lossless Rotator 9.2 Installer (32 & 64 bit, exe), size 4.4M
Download free JPEG Lossless Rotator 9.2 Installer (32 & 64 bit, zip), size 4.3M. This zip-archive contains an identical exe-installer and is offered as an alternative purely for convenience.
Download free JPEG Lossless Rotator 9.2 Portable (32 bit, zip), size 2.2M
Download free JPEG Lossless Rotator 9.2 Portable (64 bit, zip), size 2.8M. When run from a removable device, the portable version creates an .ini file with settings, and uses the .ini file instead of the registry whenever it is present in the program's folder.
For Windows 2000: JPEG Lossless Rotator requires GDI+, which may be absent in Windows 2000. If the program does not work and shows an error when you try to run it, download and install GDI+ from Microsoft website.
For Windows 98, ME or NT: there versions of Windows do not support Unicode. If you are still using Windows 98, ME or NT, download the last non-Unicode version 6.4: JPEG Lossless Rotator 6.4 (exe), JPEG Lossless Rotator 6.4 (zip), JPEG Lossless Rotator 6.4 Portable (zip).
Advice:
JPEG is a complex file format and some photo camera manufacturers may vary its structure over time. Therefore, it is recommended to test JPEG Lossless Rotator on a number of spare photos created by each of your photo cameras before using the program extensively. Alternatively, run it with the enabled "Preserve a copy of original images" option until you are fully satisfied with the result. If you are planning to use the photos in any other programs or online services after the rotation, it is also recommended to test the rotated photos there: make sure the rotated photos can be opened, uploaded, edited, saved, etc.
User Manual
Getting Started
If you are not planning to use the shell integration, you can download either portable JPEG Lossless Rotator or the installer. If you want to use the shell integration, you should download the installer.
Install JPEG Lossless Rotator. If you want to be able to rotate images via context menu, select "Integrate JPEG Lossless Rotator with shell" option during the installation. Start the program and use the Browse button to open a folder with JPEG/JPG images. After you choose the folder, the program will create thumbnails of the images. If Include subfolders option is enabled, thumbnails of all JPEG and JPG images in all subfolders will also be created. Now you can select a thumbnail of a picture (or a few thumbnails by dragging the mouse with the left button pressed) and use one of the main buttons:
Rotate Left rotates the selected image(s) 90 degrees counter-clockwise.
Rotate Right rotates the selected image(s) 90 degrees clockwise.
Rotate 180° rotates the selected image(s) 180 degrees, i.e. turns the image(s) upside down. This button also contains a drop-down menu with Flip Horizontal and Flip Vertical actions.
Additional Buttons
Recent Folder re-opens the folder that was opened before the last program closure.
Favorites adds and keeps up to 10 shortcuts to folders.
Automatic detects and rotates images that can be rotated to normal orientation automatically.
View Image opens full size image in your default picture viewer.
Delete deletes the image from the disc.
Display EXIF opens the EXIF Properties window and displays the information contained in the EXIF tags of the image. Note: JPEG Lossless Rotator updates EXIF orientation tag after rotation, however, once a normal value of the orientation tag is achieved, it remains normal regardless of subsequent rotations — this allows to achieve the correct orientation of the photos taken with cameras without an orientation sensor.
Options
The Options menu contains additional settings and functions:
Refresh re-creates the thumbnails.
Rebuild thumbnails when window resized changes the thumbnails size to fit the new window size. If this option is disabled, the size of the thumbnails does not change and scroll-bars appear if the window has been downsized.
Thumbnails in row... sets the number of thumbnails in each row in the main window.
Enlarge small thumbnails enlarges previews of the images that are smaller than the thumbnail size.
Keep file timestamp leaves the file's modification date and time unchanged despite the performed rotations.
Preserve a copy of original images makes a copy of each image before it was rotated and saves that copy in the folder with the original image. Each unrotated copy has word _ORIGINAL added to its file name.
Display delete confirmation dialog shows a confirmation message when you try to delete an image by clicking Delete button.
Display explorer tree shows or hides the file explorer tree on the left side of the main program window.
Display crop warning shows a warning message when an image needs to be cropped for lossless rotation.
Background color changes the colour of the program window.
Text color changes the colour of the file names displayed under thumbnails.
High thumbnail quality (slower)/Low thumbnail quality (faster) defines the speed of thumbnail creation and the quality of thumbnail images. This does not affect the actual image quality.
Mouse Clicks
Click the right mouse button on a thumbnail image preview for one of the following functions:
View image (opens the image in the default image viewer)
Rotate right
Rotate left
Rotate 180°
Display EXIF
Flip horizontal
Flip vertical
Rename
Delete
A double click on a thumbnail image preview opens the full-size image in the default image-viewing program.
Hot Keys
Some of the main menu buttons and right-click actions have associated keys for a faster access:
Arrow keys — to choose an image
Enter — to view the full size image
R — to rotate the image clockwise
L — to rotate the image anti-clockwise
U — to rotate the image 180°
E — to show the EXIF-data
H — to flip the image horizontally
V — to flip the image vertically
Ctrl+R — to rename the image file
Ctrl+Del — to delete the image file
EXIF orientation reset
The EXIF Properties window (accessed via Display EXIF button or E hot key) has the "Reset EXIF Orientation to Normal" button. It sets the orientation tag value to normal without rotating the image. This function takes the "Keep file timestamp" setting into account. Resetting EXIF tag to normal may be very helpful for achieving correct display of the photos that appear to be oriented correctly but, for some reason, have incorrect EXIF tag value; this often happens when photos are taken with the camera pointing down, for example when photographing paper documents on the table.
Shell Integration (installer version only)
JPEG Lossless Rotator integrates into shell and creates context menu items if you chose "Integrate JPEG Lossless Rotator with shell" option in the setup window during the installation.
You can click on a JPEG/JPG file icon with the right mouse button and choose "Lossless Rotate Right" or "Lossless Rotate Left" context menu item to rotate the picture. Same works for a selected group of JPEG files.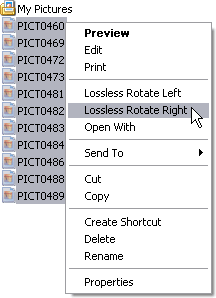 You can also automatically rotate all JPEG images in a folder by clicking the right mouse button on the folder and choosing "Automatically Rotate JPEG Images" menu item (provided that the JPEG files in the folder have orientation tags). This command will rotate images in all subfolders if you have the "Include subfolders" option enabled in the main program window.
Command Line
JPEG Lossless Rotator allows you to use command line for image transformation. The command format is: <Path to jpegr.exe> jpegr.exe -[r|l|u|v|h] [-s] <filename>
Available flags:
r — rotate the image clockwise
l — rotate the image anti-clockwise
u — rotate the image 180°
h — flip the image horizontally
v — flip the image vertically
s — suppress all warning messages
You can also run Automatic Rotation function using command line. The command format is:
<Path to jpegr.exe> jpegr.exe -auto <Path to a folder with JPEG files>
To include all subfolders, type -autosub instead of -auto. The program outputs messages as message boxes (not in the command prompt), so you can use any command line, like "Run..." in Windows Start menu, for example by typing "C:\Program Files\JPEG Lossless Rotator\jpegr.exe" -auto "D:\My Photos\". Paths with white spaces may need to be enclosed in double quotes.
The standard boring yet important disclaimer
This product is distributed "as is". No warranty of any kind is expressed or implied. You use this software at your own risk. The author is not liable for data loss, damages, loss of profits or any other kind of loss incurred directly or indirectly while downloading, using or performing any other action in relation to this software. The author is also not responsible for the quality, safety and integrity of the software you downloaded from any third-party site: in such case please direct all your questions to the owners of that site.
Questions & Answers
I can't select multiple non-contiguous files by holding the CTRL key and clicking on thumbnails. What's wrong?
Unfortunately, due to the specific behaviour of the thumbnail grid, it is only possible to select either a single thumbnail or multiple thumbnails forming a continuous rectangular area (next to each other and/or above/below each other).
Why doesn't automatic rotation do anything to my photos?
If your camera is equipped with an orientation sensor to detect its orientation (horizontal, 90°CW, or 90°CCW) when you hold it, it can embed that information in the photo's EXIF tag. During automatic rotation, JPEG Lossless Rotator reads this tag and rotates the photo accordingly.
Some cameras do not have the orientation sensor or have it switched off in the camera settings, which means they always put "Horizontal/Normal" value in the EXIF orientation tag. Such photos cannot be rotated automatically, because the orientation tag tells JPEG Lossless Rotator that the photo doesn't need to be rotated. You still can turn these photos into correct orientation manually by using JPEG Lossless Rotator's rotate buttons.
In JPEG Lossless Rotator's main window, select a photo that obviously needs rotation and was not taken with the camera lens pointing upwards or down. Then click the "Display EXIF" button and have a look what the "Orientation of the camera" line says. If you see "Top/left-hand side (Normal)", then your camera either does not have the sensor, or the sensor needs to be switched on. Refer to your camera user manual to find out what settings switch its orientation sensor on.
Why does automatic rotation rotate correctly oriented photos to an incorrect position?
It can happen if the images were rotated earlier in another program and that program did not update the EXIF tags. Such images appear to look correctly, but their EXIF orientation tags still contain the original information, which tells JPEG Lossless Rotator that the images need to be rotated. As JPEG Lossless Rotator's automatic rotation relies on EXIF tags, it rotates the images according to what EXIF tells it, and as a result makes those pictures appear incorrectly oriented. To fix this discrepancy between the appearance of the images and the information in their EXIF tags created by another software, you can correct the EXIF information of those photos with the Reset EXIF Orientation to Normal function (accessed via Display EXIF button or E hot key) before performing automatic rotation for the whole folder.
Why does automatic JPEG Lossless Rotation work incorrectly with photos of book pages, while it works perfectly with photos of landscapes, buildings and people? Some pages are rotated incorrectly, and if I rotate them manually, then my viewer shows them in a wrong orientation.
When you are taking photos of book pages with the book lying horizontally on a table, your camera lens is pointing down. In this position, the camera's orientation sensor may make a mistake in determining its orientation and assign an incorrect value to the photo's EXIF orientation tag. JPEG Lossless Rotator's automatic rotation is guided by the EXIF orientation tags, and if these tags have an incorrect value, the result of the automatic rotation is also incorrect.
When you rotate these photos manually, you can see that thumbnails of the photos in JPEG Lossless Rotator show the correct position. However, because the initial value of the EXIF orientation tag was incorrect, the value after the rotation becomes incorrect too. Now, if your viewing program has the ability to show photos according their EXIF information, it will use the incorrect EXIF data and display the photo in a wrong orientation, even though the photo is physically rotated correctly.
To achieve both the correct position of the photos and correct EXIF information, you should:
Apply JPEG Rotator's automatic rotation to the photos. Do not worry if some photos will be rotated incorrectly. (You can use the "Reset EXIF Orientation to Normal" button in the "Display EXIF" menu instead of the automatic rotation if you want to edit just a few photos.)
After that, manually rotate those incorrect photos to their correct position.
Now the photos are in their correct position and their EXIF tags are correct too.
Why do Windows thumbnails not change when I rotate photos using context menu in Windows explorer*, but when I open the photos in a viewer they are all rotated correctly?
If Windows thumbnails cache is on, Windows does not update thumbnails unless the modification date of those files changes or you update them manually. There are two ways to solve this problem:
If you do not need to keep your files' date, you can uncheck "Keep File Timestamp" option in JPEG Lossless Rotator's "Options" menu.
If you do want to keep your files' date, you can switch Windows thumbnails cache off. On Windows XP, open "My Computer", then choose "Tools" menu, then choose "Folder Option" menu item, and then open the "View" tab. Now check "Do not cache thumbnails". After this, Windows will stop creating thumbs.db files that contain cached thumbnails. It will take Windows a bit longer to create thumbnails when you open a folder with images, but, on the other hand, it will reduce the number of system files cluttering your discs. If you are using Windows Vista or 7, there is an option to clear the thumbnail cache in the Disk Cleanup (click Start, type cleanmgr or disk cleanup, select the system drive letter and check Thumbnails in the list of files to be deleted).
Another culprit may be a third-party software. Some image editors do not rotate EXIF thumbnails (thumbnail image embedded into the photo's EXIF data) correctly, and if the photos were edited in another program before rotating them in JPEG Lossless Rotator, the EXIF thumbnails may already be desynchronised with the photos.
* Please note that there are two commonly used computer-related "explorers": the Internet Explorer — the Internet browser, and the Windows Explorer — the Windows file manager that provides a graphical user interface for accessing the files. Here we are talking about the latter, the Windows Explorer.
Why does JPEG Lossless Rotator show orientation EXIF tag value as Right-hand side/top (Rotate 90 CW) when I see that my photo is on its left side?
The EXIF specification defines the orientation tag to indicate the orientation of the camera relatively to the captured scene. If the program shows the value Rotate 90 CW, it means that your camera was on its right side (for you, looking through the viewfinder) when you captured the photo. "Right-hand side/top" in this case means that the 0th row is on the compositional right-hand side of the image, and the 0th column is at the compositional top (in the normal position the 0th row is at the visual top of the image, and the 0th column is on the visual left-hand side).
Where are the original photos that I had before the rotation?
By default, JPEG Lossless Rotator rotates and overwrites the original photos. It does it for several reasons:
most users don't need the original photos with wrong orientation;
most users want to save their disk space;
most users don't want to remember which photos have already been rotated and which haven't.
If you want to keep the original files intact, enable the Preserve a copy of original images option in the JPEG Lossless Rotator's Options menu. Alternatively, you can make a copy of the files before the rotation.
Is the rotation by JPEG Lossless Rotator really lossless?
It is lossless for any JPEG/JPG file with width and height (number of pixels) divisible by 16 or 8 (depends on the digital camera or the way the image was created). Almost all common photo formats have width and height divisible by 16. For example, 3456x2304, 3072x2304, 2816x2112, 2560x1920, 2496x1664, 2048x1536, 1728x1152, 1600x1200, 1280x960, 1024x768, 800x600, 640x480, 320x240. If your camera creates photos with a size that is not divisible by 16, JPEG Lossless Rotator may not suit you.
Why some JPEG images cannot be rotated losslessly?
JPEG file structure does not allow lossless rotation of a file if its width and height are not divisible by 16 or 8 (depends on the digital camera or the way the image was created). If a file cannot be rotated losslessly and you haven't switched the crop warning messages off in the settings, JPEG Lossless Rotator will ask you whether you want to crop the image edges by up to 15 pixels to make lossless rotation possible.
If the program does crop an image, it crops the right and/or* bottom sides, which become the bottom and left sides if you rotate 90°CW, top and right sides if you rotate the images 90°CCW, and left and upper sides if you rotate 180 degrees.
* "and/or" depends on whether only the width, height, or both sides are not multiples of 16 or 8.
Why does the file size change? It was 1352 KB, and after rotation it became 1297 KB. What's happened? My photo is 1024x768, so it should be rotated losslessly.
JPEG file size change does not mean the same quality change. When you rotate your photo, JPEG-blocks have a new position and the resulting file size may change (decreased or increased).
I like your free software. What can I do for you?
You can help to make JPEG Lossless Rotator more widely used by recommending it to your friends and colleagues, or by adding comments and reviews about JPEG Lossless Rotator on the sites and social media you use. You can also support some of the causes I deeply care about.
If you are fluent in any language other than English, you can also help other users by translating JPEG Lossless Rotator interface to your native language, or by improving, correcting and completing the existing translations. To translate the interface to a new language, download the zip-archive with language text file and translate the words and sentences after the "=" signs in each line. To correct an existing translation, please edit the corresponding language file from the "lang" folder in the JPEG Lossless Rotator's directory. To complete the translation, add the absent lines from the English language file. When finished, save the file and send it via the contact form.