How to "sharpen" a peeler without any tools
This is a quick and easy "sharpening" trick for a vegetable peeler with a symmetric blade. It utilises the fact that most people only use one side of it, while the other side stays sharp as new. In this case, to make the peeler sharp again, you simply need to turn the blade around and start using its other side. No special sharpening tools are required: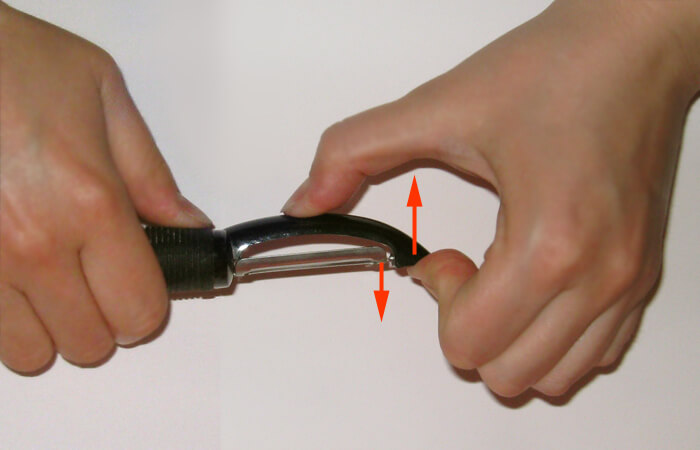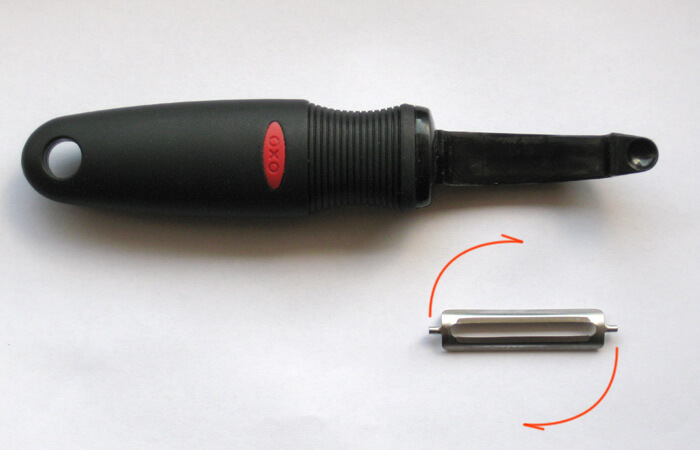 You can use this method if:
your peeler has a symmetrical (ambidextrous) blade; and
you only/mostly use one side of the blade, i.e. the other side is still sharp; and
the peeler has an arch over its blade, or is made of a flexible material that allows some bending for taking the blade out and putting it back in.
Tips:
Mark the blunt side of the blade before taking it out if you can't easily tell the difference.
Hold the peeler over a table or other suitable surface when taking the blade out, so the blade doesn't fall on the floor and doesn't get damaged or damage anything else.
Consider wearing gloves to protect your hands from accidental cuts.
It is easier to fit the blade back in if you have another person to help you. One can hold the arch open while the other is fitting the blade in.
Different peelers
Peelers made of more flexible and better quality plastic with high arches over the blade often cost more than basic peelers. However, if the price is less than double, it still pays off. This blade-turning method means that you can get two blade life-spans for the price of one, while enjoying using a better quality kitchen tool, usually with a much better handle and better quality steel of the blade.